Click on the pic to hear Jim Warner call into the Bill Finck show on April 12, 2014. He describes the tanks going into Clinton, Tennessee to force integration.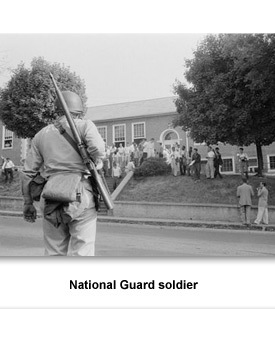 Most people don't know that the federal government sent tanks into Clinton, Tennessee to force the White students to accept Black students to be their close associates. In 1956 the armed soldiers walked black students into the school
A staunch racist, Kasper, held a meeting with 1500 White people to protest the use of force. He was arrested for interfering with integration and put in jail. Another pro-segregationist, Asa Carter, came from Mississippi to keep the opposition focused on its goal of protecting White children from racial integration with the Negros. Tennessee's governorm, Frank Clement, did not follow the example of Orval Faubus from Arkansas who had stood up to the federal soldiers with his national gaurd. Instead, Clement use h is highway patrolmen and National Guard soldiers to cooperate with the federal government's forced integration.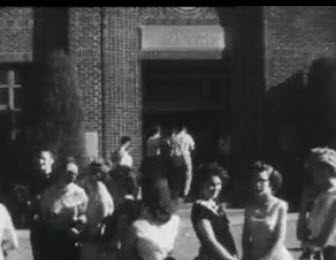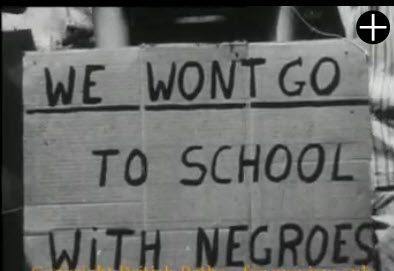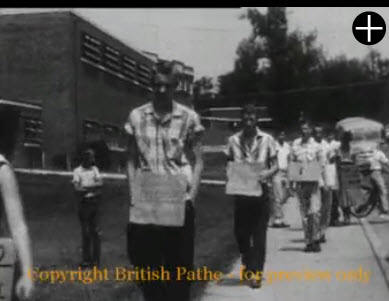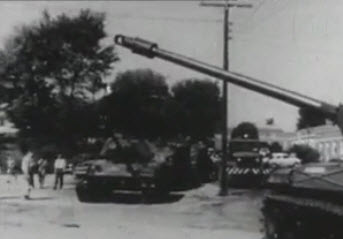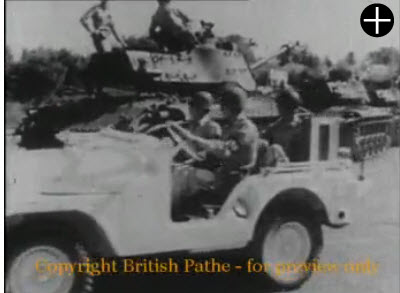 Clinton citizens formed a "home guard" to try and protect their town from the violence threatened by outside agitators and the government tanks and armed soldiers. Resistance was futile. The
Tennesee highway patrol ruled the day and intimidated those who opposed the genocide of their race into silence. A
Whigger minister named Paul Turner escorted the Blacks to school. He met with violent resistance from White people protestors. Two White men, probably outside agitators, pretending to be local protestors, broke into the school which gave the government an excuse to close the school down until local elections could be held. All of the White Citizen Council candidates who were opposed to desegregation were defeated and hostilities were reduced.
JAMES K. WARNER, CHRISTIAN IDENTITY PREACHER
Christian Identity is the idea that Christ was White and that Anglo Saxons are genetically related to the ancient Israelites of the Old Testament. Christian Identity holds that racial separatism is a Godly ideal, taught to ancient White tribes of Israel to preserve their recessive genes against intermarriage which, due to the recessive nature of the White genes, must lead to genocide. Emphais is placed on denying the link between today's Jews and yesterday's Israelites. According to Christian Identity theology, Jews are neither the "true Israelites" nor the true "chosen people" of God; instead, Christian Identity proponents claim, Jews are descended from an Turkish/Asiatic people known as the Khazars, who converted to Judaism in 700 A.D. Followers of Christian Identity point to extermination of 65 million White Christians under the Jewish Bolshevics to promote the idea that guns are necessary to stop a Communist take over in America.
Christian Identity teaches that only the white race was created in the form of God, while Asian and African races were created from the "beasts of the fields," and therefore lesser beings. Mixing the two lesser races with themselves or with the White race creates mongrels, the first of which was Cain, born by Even under the influence of the Devil. Mongrels are referred to as the "Spawn of Satan" or "Jews who claim to be Jews but are not." Whites are descended from the "true son" of Adam and Eve, Abel, and are the actual "chosen people" of God. Some Christian Identity adherents go even farther, claiming that subhuman "pre-Adamic" races existed and "spawned" the non-white races of the world, which they label "mud people."
James K. Warner is one of several emerging Christian Identity leaders who raise their voices against Communism, civil rights, multiculturalism, diversity and wars for Israel. Presently, Christian Identity groups are strongest in the Pacific Northwest of America and Canada, and the US Midwest, though Identity churches can be found throughout the US and in other parts of Canada. Identity churches also exist in, among other nations, Ireland, Great Britain, Australia, and South Africa.
COLLECTION OF MATERIALS WHICH ARE PRO-KU KLUX KLAN, ANTI-COMMUNIST AND ANTI-JEWISH
Anatomy of a revolution by Arch F. Roberts. Ft. Collins, CO : Betsy Ross Press, [1975]. 32p. Originally published in The Woman Constitutionalist, Aug. 3, 1968 and in the Congressional Record, Oct. 9, 1968, pp. E8766-E8770
Behind Communism by Frank L Britton. Privately published around 1952. 96p. Anti-Semitic.
Blue Tunic Army of Christ by Wesley A. Swift. Metairie, LA : New Christian Crusade Church, [1975] 27p.
CDL Report. Published by the Christian Defense League (Baton Rouge, LA). Five issues 1979, 1981, some not dated.
Christian Vanguard. Official Publication of the New Christian Crusade Church (Hollywood, CA). 15 issues. 1976-79.
Citizen : A journal of fact and opinion. Published by the Citizens Council, Inc. (Jackson, MS). Jan. 1979 and Aug. 1979.
Councilor. vol. 15 no. 6 - July 1979. Published by Councilor Research, Inc. (Shreveport, LA).
Covenant Message. vol. 47 no. 1, January 1979. Published by The Federation of the Covenant People (Johannesburg, South Africa). [32 p.]
Cross and the Flag. vol. 31 no. 3 - June 1972; vol. 33 no. 3 - June 1974; vol. 35 no. 10 - Jan. 1977; vol. 36 no. 2 - May 1977. Published by the Christian Nationalist Crusade (Glendale, CA). Founded by Gerald L. K. Smith (1898-1976).
Crusader, Voice of the National Silent Black Majority Committee of the U.S.A. (San Antonio, TX). 1 issue July, Aug., Sept. 1979.
Crusader, Voice of the White Majority. 1975- 1979. Published by Patriot Press (Metairie, LA). six issues. KKK publication. Includes information about David Duke
Documented Proof: Jews behind race mixing by Edward R. Fields. Marietta, GA : Thunderbolt, Inc., [1957], 12p.
F.D.R. : my exploited father-in-law by Curtis B. Dall. Tulsa, OK : Christian Crusade Publications, 1968, 192p.
Facts are facts by Benjamin H. Freedman. Cover title : The Truth about Khazars. Boston, MA : David Goldstein, 1954. 79p.
Greatest war in history now on! Inter-national Jewish system against national patriotism. by Henry Hamilton Beamish, Adrien Arcand and Robert Edmondson. New York : [Edmondson]. 1937, 23p.
Have you ever wondered? America's Promise Radio log and maps (Phoenix, AZ). 1978. 1p.
Klansman. Published by the Invisible Empire, Knights of the Klux Klan (Denham Springs, LA). Nov. 1976, May 1978, Nov. 1978, Dec. 1978, July 1979.
Last great nation on earth by Rose L. Martin. Wake Village, TX : Fidelis Publishers, , 1978. 256p.
National Christian News. Five issues : vol. 11 no. 10 (1972); vol. 12 no. 2 (1973); vol. 14 no. 1 (1975): vol. 15 nos. 5 and 7 (1976). Published by National Christian News (Ocala, FL). The Largest Anti-communist Paper!
None dare call it conspiracy by Gary Allen. Rossmoor, CA : Concord Press, 1971. 143p.
Outlaws of Amerika: The Weather Underground Organization. Foreword by Roy M. Cohn. Afterword by Mark Felt. Alexandria : VA : Western Goals, 1982, 98p.
Protocols of the meetings of the learned elders of Zion. Translated by Victor E. Marsden. Eureka Springs, AR : Christian Nationalist Crusade, [1955] 80p.
Public Sector Union Violence. Vienna, VA : Public Service Research Council, 1980. 147p. A collection of news clippings from 1984-1980 dealing with violence by union members.
Rapture of the wicked by Stephen E. Jones. Phoenix, AZ : America's Promise, 1977. 24p.
Spearhead. no 79 (Sept.-Oct. 1974). Published by John Tyndall (Surrey, England). 20 p.
Spotlight. Weekly newspaper from Washington. vol. 4, no. 18, 32 (1978); vol. 5 (1979) ten issues ; vol. 7 nos. 33, 35 (1981).
Strategy for peace through strength. Strategy Board, American Security Council Foundation for Coalition for Peace through Strength. Boston, VA : the Council , 1984. 204p.
Thunderbolt : The Whiteman's Viewpoint. Published by The Thunderbolt, Inc. (Marietta, GA) nos. 203, 227, 234, 239, 241 (1976, 1978, 1979).
To all members of Congress by Louis E.Wolfson. 1976 21p. [1-36983]. This privately published booklet discusses why Congress should periodically review judges with lifetime appointments.
Zion's Watchman. Published in the name and for the glory of Jesus Christ and his kingdom (Nevada, MO). by Dan Gayman. vol. 4 no. 12, (Nov., 1977); and Vol. 6 no 5, (Aug., 1979).